Hi,
I have created a custom workflow for handling helpdesk issues. The user will create and submit the issue and the helpdesk admin should resolve it. See attached pic for states and transitions: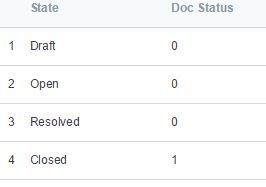 However, I want the page to freeze once the state changes to ''Open'' as the user submits the issue. The page should be editable only by the helpdesk admin. But I get the following message if I change the docstatus of ''Open" as 1.

Can someone suggest a workaround?