I'm currently on version 13.6. I previous tried it on 13.5 as well.
Run Process Loan Interest Accrual from Loan module before you run the payroll.It works perfectly
I've tested already just now. But no work. The steps that I followed:
[
1.Create loan for an employee
2.Process Loan Interest Accrual
3.Payroll entry
4.After submitting salary slip from payroll check the salary slip
5.Total Loan Repayment value is still showing empty
]
Could you please share with us step by step by making a gif format image or screenshot? It'll be very helpful for us.
Thank You So Much!
1.Set up Loan And Advances as salary component, 2. Set up loan type. 3. Loan application . 4. Loan disbursement. 5. Loan interest accrual.
Then process your payroll (payroll entry).
If you fail to set up the Loan and Advances as a deduction in salary component and incorporate it to your salary structure, the loan deduction will not happen even if you run Loan Interest Accrual before running your payroll
Hey, I tried the as you said. But, It still doesn't reflect on the Salary Slip.
Can you show me the screen shot of your salary structure and your loan and advances salary component?
Thank You so much for your quick support!
I tested according to your suggestion. There's now only one query that after submitting the salary slips from payroll entry the loan amount doesn't show on the Journal which is created automatically. Salary Slip and Journal Images are give in attached.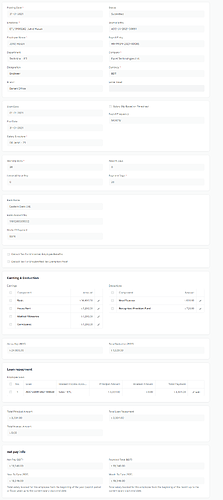 Pls show me the Loan and Advances salary component and show me how you positioned it in your salary structure.It is likely from there you are getting it wrong
Thanks a lot @Fred1!
Screen shots are in attached.
Remove Loan and Advances salary component completely from Salary Structure. Ensure the loan has been disbursed and that in the loan form you have selected "Repay From Salary" as shown below:
If you have run loan interest accrual for the period you should have the loan deducted automatically from the payslip as shown below:
Thank You So munch for your continuous effort to solve my issues!
Actually I got the loan amount on salary slip already. My query was when you create a payroll, create salary slip of all employee from payroll entry and submit them from there, A journal will be automatically created. But I didn't get loan amount on that journal when I submit.
I am having the same issue, did you find any solution for it ?
Loan Interest Accrual has to be present for the Loan deduction to work on Salary.
If the Interest is due in past, ERPNext will not create the Accrual entry since the entry happens through Cron. Therefore for back-dated loans/accruals, you have to make the entry manually through Process Loan Interest Accrual.
Yes I have created process loan interest accrual, still have no luck.
Do I need to create a salary component for loan ? If yes then which account should I connect it with
These are the steps I performed it works for me. Please try on this,
First create 2 accounts on charts of account one for the employee loan account, under the "Loan and Advanced Account".
Another one is for Employee loan interest, under the "Income Tax".
2)Loan Type
3)Loan Application
4)Loan
5) Loan Disbursement
6) Process Loan Intrest Accrual
7)Salary processing
Try this.
Thanks
I have a custom chart of accounts, instead of Loan and Advanced Account we have Loans Group, under it we have employee loan account that should be okay right ?
Please try with the account u have? if not working try with the chart of account
No it still doesnt seem to work.
after creating payroll entry, the loan repayment is created and the employee loan account is credited and the payroll account is debited

But when I create the Bank entry it still shows the full salary (5000 EGP) instead of showing 4500 EGP which is 500 less (loan amount)

You are right, this is an issue.