Today I tried to install another instance of the last v10 version using the same process I have been using since v11 was released (the easy install script). After it was successfully installed I tried to log into it to complete the setup wizard and I got the following error:
(This is new BTW. Everything worked a few weeks ago)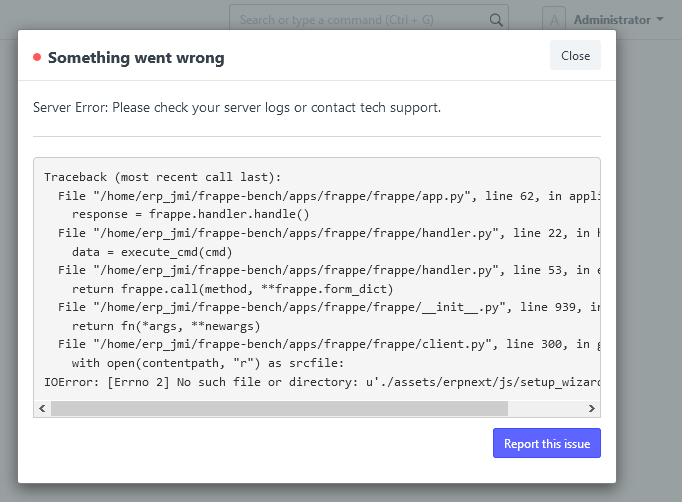 .
.
The relevant line there is:
IOError: [Errno 2] No such file or directory: u'./assets/erpnext/js/setup_wizard.js'
Does anyone have any idea how I can get the setup_wizard.js and put it the right location on this server so I can complete the setup?
Also, If I can get it, where exactly does it go? (need whole path)
Just in case you were trying to read the error in the box, it looks like this:
Traceback (most recent call last):
  File "/home/erp_jmi/frappe-bench/apps/frappe/frappe/app.py", line 62, in application
    response = frappe.handler.handle()
  File "/home/erp_jmi/frappe-bench/apps/frappe/frappe/handler.py", line 22, in handle
    data = execute_cmd(cmd)
  File "/home/erp_jmi/frappe-bench/apps/frappe/frappe/handler.py", line 53, in execute_cmd
    return frappe.call(method, **frappe.form_dict)
  File "/home/erp_jmi/frappe-bench/apps/frappe/frappe/__init__.py", line 939, in call
    return fn(*args, **newargs)
  File "/home/erp_jmi/frappe-bench/apps/frappe/frappe/client.py", line 300, in get_js
    with open(contentpath, "r") as srcfile:
IOError: [Errno 2] No such file or directory: u'./assets/erpnext/js/setup_wizard.js

Thanks
BKM