Can you run :
bench setup nginx
sudo service nginx restart
And try to access http://localhost?
Okay, I see the issue now. Try these steps.
bench setup-nginx-port erpenxt.vm 81
bench setup-nginx-port ramgopal 80
bench setup nginx sudo service nginx restart
@vjFaLk thank you sooooooooooooooooooooo much!!! it worked…


Ah that's great!
Sorry it took so much effort though

Thanks a lot…you spend lots of your valuable time for this issue…& more over you replied immediately in every step…
in restored version pdf download is not working…
Please help
What error do you get? Provide screenshots and error messages please

If we click on PDF button, it wont display anything

I have entered "bench set-url-root ramgopal http://localhost:8080" successfully. But when I clicked PDF button, it shows below error.
hi i tryied the same steps as those in this issue, but when i get to migrate i have this error can you help me please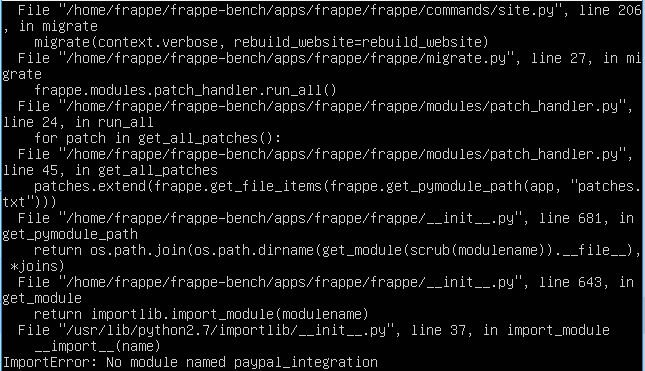 It seems you don't have module paypal_integration in your apps folder. Please run bench --site <site_name> remove-from-installed-apps paypal_inetgration from your bench folder frappe-bench[Default]
Hope this helps to solve the issue

yes it did thank you very much