Ok, So I am trying to get more complete uploads when I use the import tool to push my new Items into the database.
When it comes to "Items" one of the most important fields is the location of the picture files.
See screenshot: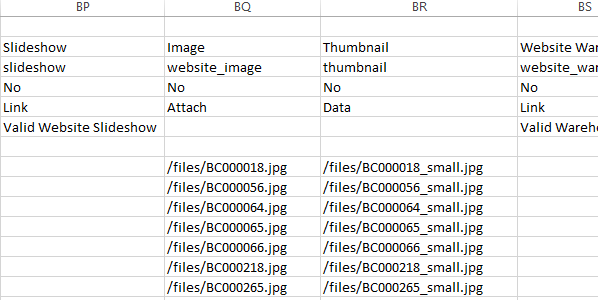 .
.
In the above screenshot you can see that I filled in the file location and filename for each of the item pictures and the reduced sized thumbnails.
Prior to importing this Items template, I had already doe the following:
created default warehouse
created product groups
created valid suppliers
Used Filezilla to push all picture files to ~/frappe-bench/sites/site1.local/public/files/
Everything imported correctly and all data shows up, but the pictures do not show up when you go to Items and call them up one at a time. They are all with no pictures EXCEPT for the one item I created by hand in the user interface and uploaded the picture in the user interface.
So I have all my Items imported with success but no pictures showing for the imported ones.
Only the ones that I use the user interface to upload individually show up properly.
Please advise.
BKM