Hey Everyone

!
I am very excited to share with you the next batch of Frappe Framework Developer certification program by Frappe School!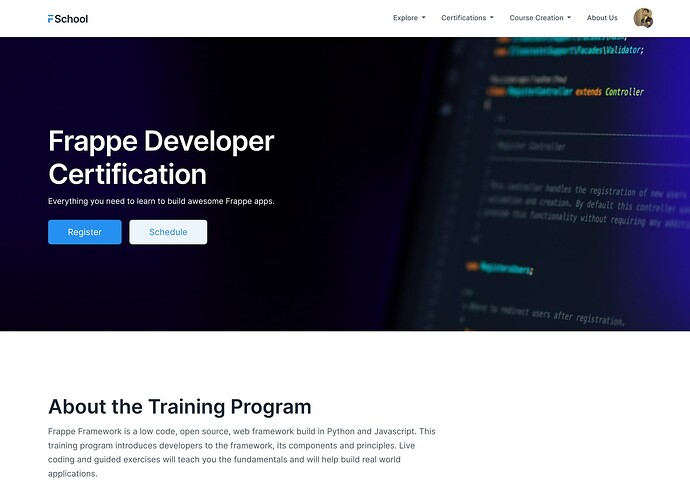 What?
In this rigorous three day (check schedule here) program, we are going to take a deep dive into Frappe Framework foundations and learn to build our own custom apps!
Here is a bird's eye view of what we are going to cover!
• Building Custom Apps: Starting from the fundamentals of a DocType, we will guide you through the process of creating your own custom apps using Frappe Framework.
• No-Code Tools: Discover the capabilities of Frappe's no-code tools, such as REST API and Webhooks.
• Low-Code Tools: Explore Frappe's low-code tools, including Client & Server Scripts.
• Building Portal Pages and Web Views: Dive into the world of portal pages and web views within Frappe Framework.
You will also work to build your own custom app which we will evaluate and give feedback, as many times as required. At the end, you will get a certificate that you can showcase on social media or your company website. You can also the certificate when you apply for jobs (even jobs listed at Frappe School jobs page!) or for a promotion!
Who?
For this special batch, I am going to be your trainer and we will together dive into the Frappeverse, live!
When?
June 8-10-12, mark the dates!
How? (Register Now!)
Register using this link
If you have any queries or doubts or just want to know the benefits, drop a reply below

and I will be more than happy to help you!