Here is the error from my terminal when running bench update
From GitHub - frappe/bench: CLI to manage Multi-tenant deployments for Frappe apps
cb1e750…1441912 master → origin/master
Updating cb1e750…1441912
Fast-forward
bench/app.py | 5 ±-
bench/commands/config.py | 7 ----
bench/commands/update.py | 5 +±
bench/config/common_site_config.py | 14 +++±—
bench/config/redis.py | 17 +++++±—
bench/utils.py | 116 ++++++++++++±---------------------------------------------------
6 files changed, 44 insertions(+), 120 deletions(-)
INFO:bench.utils:Bench Updated!
Cannot proceed with update: You have local changes in app "frappe" that are not committed.
Here are your choices:
Merge the frappe app manually with "git pull" / "git pull --rebase" and fix conflicts.
Temporarily remove your changes with "git stash" or discard them completely
with "bench update --reset" or for individual repositries "git reset --hard"
If your changes are helpful for others, send in a pull request via GitHub and
wait for them to be merged in the core.
I've already tried bench update --reset but the problem persists. the --reset option at least allows be to be able to get past this.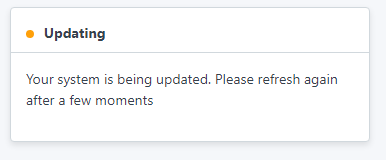 I've also tried this
What can be done so that bench update operates correctly?
Here are my versions from help->about
ERPNext: v12.6.0 (version-12)
Frappe Framework: v12.4.1 (version-12)
TIA