following the guide on digital ocean https://www.digitalocean.com/community/tutorials/how-to-install-an-erpnext-stack-on-ubuntu-20-04 caused me nothing but errors but managed to get the app working with the bitnami image
installed the bitnami image to an internal vm and can get the app working,
discovered the hmrs is now an add on so followed these steps GitHub - frappe/hrms: Open Source HR and Payroll Software but still isn't showing.
it shows in the folders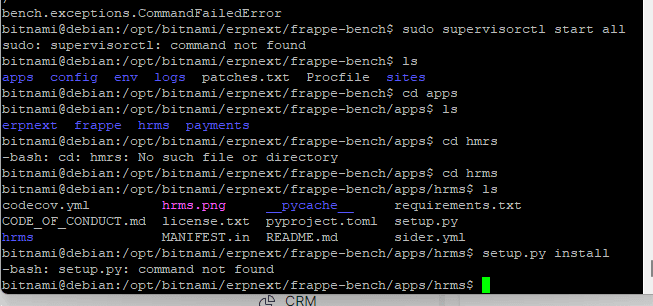 If anyone is able to help me get this app running it would be much appreciated.
the initial things i need to setup for my company to be able to use are:
• Superusers/standard users like you're doing. Limit standard users to only seeing the leave management part of the system, if possible (hide all modules we're not yet using).
• See if email notification is possible from the system (managers receive leave request email, staff receive approval confirmation etc).
• See how easy it all is to set up
• Set up a test user so they can see a calendar that takes into account company shut down periods and they can see their own leave balance, and request leave.
but i'm just getting problems, have been working on this for 2 months give or take now and this is where i am currently, trying to get hrms accessible
thank you in advance.