Hi,
I am using ERPNext [ERPNext: v13.49.9 (version-13) Frappe Framework: v13.51.3)(version-13)] for Leave Management and I have created leave allocation to all employees using Leave Period, Leave Policy with Carry Forward previous leaves. When I allocated using Leave Policy Assignment, it did not carry forward previous unused leave balance.
Previous year leave Period - 01-01-2022 to 31-12-2022 - unchecked "Is Active"
Previous year unused Leaves - 18
Current Leave Period - 01-01-2023 to 31-12-2023 - Checked "Is Active"
Leave type - Earned/Privilege Leave with annual allocation of 18 days / year
When trying either via Leave Policy Assignment or Leave Allocation, the unused leaves are not fetched for the new policy period. However, when the leave period is changed to 30-12-2022, then previous unused leaves are shown, but cannot submit leave as 30-12-2022 is part of previous leave period. Below is from New Leave Allocation screen as Leave Policy Assignment will not allow to use the leave period and submit.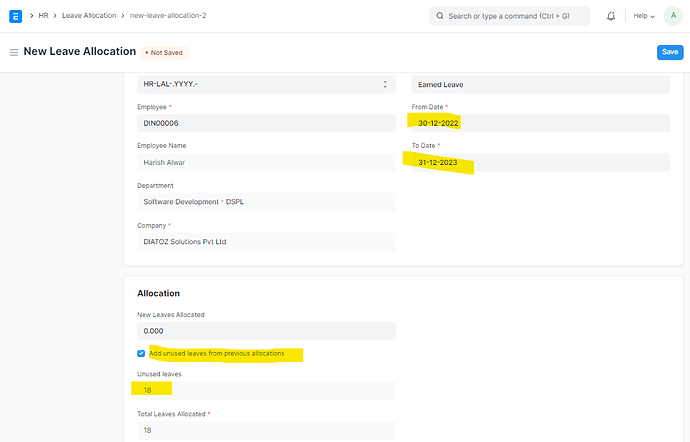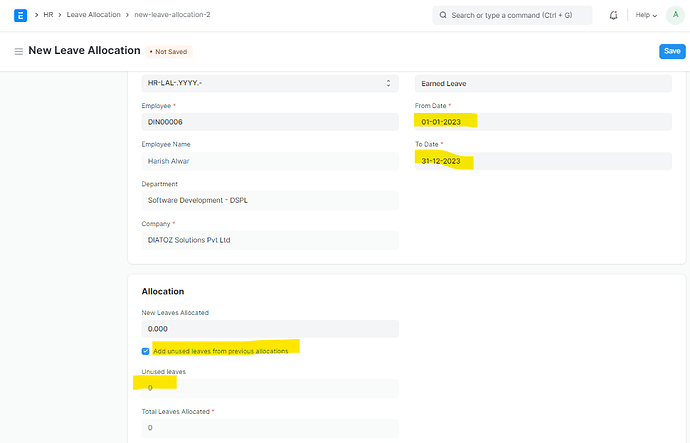 Any suggestions will be great help.