Hi,
I wonder if there's a way to check the little checkbox at the right of a child table using JS (on refresh event). For example, the table 'items' in Quotation. If there's an item.qty > 5 then check the checkbox.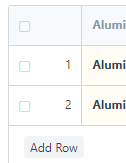 I tried to print the row in a foreach, but I don't see any field that might be linked to what I want.
I really don't see how to do that


Any Idea?