ERPNext: v14.36.0
Frappe Framework: v14.46.0
When creating a single Lean manually (vs. import), if the creation includes an email address for the Lead, the UI will hang and eventually give a timeout…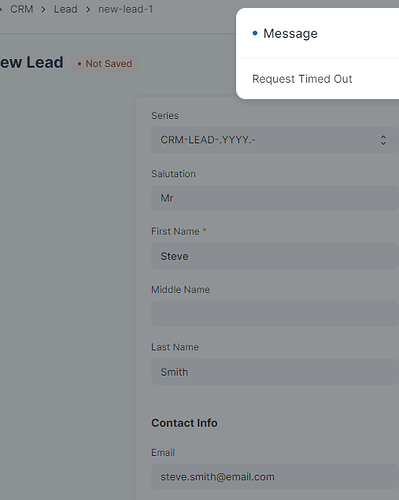 Reload the page, fill it out again and try to save and it will say page has been updated since last loaded. Refresh again and all the data is there.
Or you can exit when it times out and it eventually shows up in the Lead list view.
Now, any other updates made to this Lead will result in the same behaviour IF there is an email address. If there IS NOT an email address, then the saves happen right a way and the page is displayed with all of your edits.
Seems like this is an issue already reported?
Has anyone else ran into this? Is there a workaround for manual creation? I guess I could import Leads each time one needs to be created.

Importing Leads that have email addresses seems to work fine.
Thanks in advance