Hello,
We are using ERPNEXT14 for our very small business and it was working fine. We have set naming series for all the documents i.e. Purchase Orders, Sales Orders, Sales Invoices etc. Our Common pattern is to have Doc Name i.e. PO followed by Financial/fiscal Year i.e. 2023-24 and 3 digit serial number i.e. 001. hence we have set the naming series "PO.FY.###"
After updating to v14.31.3, fiscal year is not working in naming series. We already have issued many tax invoices with our series i.e. SINV2023-24001 which are also registered with GST portal. as per GST guidelines, the invoice series shouldn't be changes in mid of fiscal year but the naming series in ERPNEXT is no more considering ".FY." as a valid argument.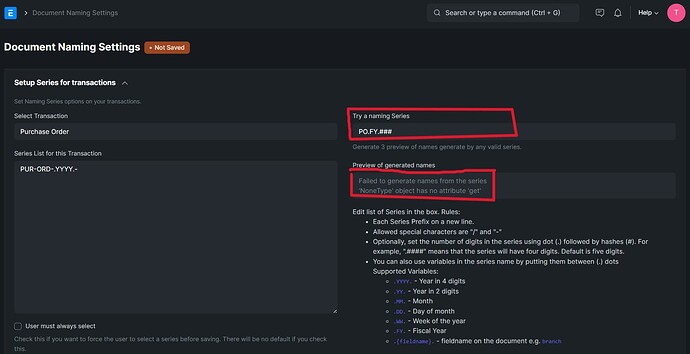 although there is a work around to situaiton by manually naming the series i.e. by putting PO.2023-24.### but then we need to do the same for all the doc types. moreover, at the end of fiscal year, we'll need to do the same practice again to update the naming series of all the documents. whereas having Fiscal Year .FY. as a valid argument for Naming Series, it could have been done by changing the Fiscal Year in Accounting Module itself.
can anyone suggest where can be re-activate this feature in ERPNEXT14.