Hello all,
why it's showing an error of incorrect password in generating an e-invoice even if all credentials are Correct

Hello,
To set up your credentials, please refer to this : Setup Credentials
Additionally, please check if you are currently using the app in sandbox mode. If so, kindly disable sandbox mode in the GST Settings.
but i want to use in Sandbox mode its for testing purpose
Update to the latest version of the India Compliance app. This issue would be resolved.
okay thanks, I tried that it solved
but now another error getting generate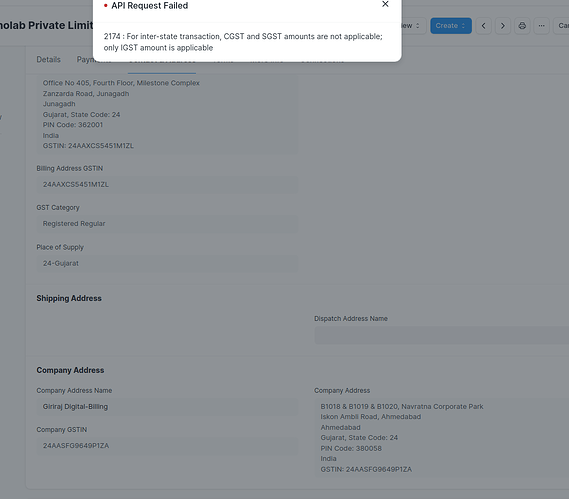 this should not happen because as you can see here my transaction is between intra-state
Hello,
Thank you for bringing this issue to our attention.
In Sandbox Mode, the buyer and supplier details are hard coded and, currently incorrect values are sent for API requests, resulting in error.
We will inform you once the issue is fixed.
Your Welcome, good to know that it's fixed though I am facing the same error, do I need to update the app or will it auto update in Frappe cloud?
Currently, it's Work In Progress.
Fix will be included in the upcoming release.
We will update you once fix is released.
Edit: Fix has been released in version 14.14.3.
You have to update the India Compliance App.