Hi guys,
We recently noticed quite a weird behavior of the email messages our custom app places to the email queue. When the script generates a new email, it hangs in the queue for a long time (many hours, almost indefinite) without any action, remaining in "Not Sent" status.
The email is well formed and is visible via the Queue Manager interface in ERP Next: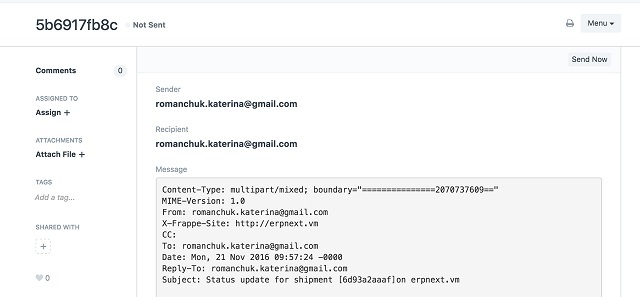 When we manually select such a message and press Send Now button, it goes out in a good manner, reaching the email box of a recipient quickly.
We observe such issues on both the development VM with one of the latest ERP Next 7.1.x versions and on a more powerful server where we deploy ERP Next manually ourselves.
Just in case, below are captured our email messaging settings in ERP Next setup: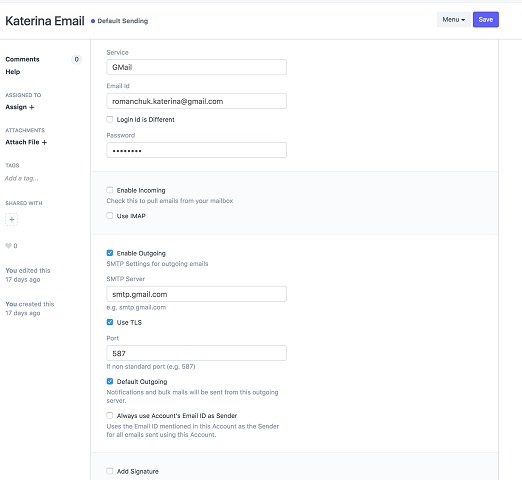 Does anybody have any idea on how to fix this?
Thank you.
George
P.S. Just in case, we also provide the source of one of the emails affected by this problem:
indent preformatted text by 4 spacesContent-Type: multipart/mixed; boundary="===============2070737609=="
MIME-Version: 1.0
From: romanchuk.katerina@gmail.com
X-Frappe-Site: http://erpnext.vm
CC:
To: romanchuk.katerina@gmail.com
Date: Mon, 21 Nov 2016 09:57:24 -0000
Reply-To: romanchuk.katerina@gmail.com
Subject: Status update for shipment [6d93a2aaaf]on erpnext.vm
–===============2070737609==
Content-Type: multipart/alternative; boundary="===============1900835415=="
MIME-Version: 1.0
–===============1900835415==
Content-Type: text/plain; charset="utf-8"
MIME-Version: 1.0
Content-Transfer-Encoding: quoted-printable
TEST
–===============1900835415==
Content-Type: text/html; charset="utf-8"
MIME-Version: 1.0
Content-Transfer-Encoding: quoted-printable
Status update for shipment [6d93a2aaaf]on erpnext.vm
TEST =
–===============2070737609==–
indent preformatted text by 4 spaces