Hola Celina, el estado del Flujo de Trabajo no és como el estado del Documento.
Quando usted crea un Flujo de Trabajo, usted tiene que crear los estados permitidos a este flujo.
Como Aprovado, Verificado, Negado etc.
Hay una seccion arriba de las reglas de transiciones, onde usted debe crear estes estado.
Caso tenga alguna duda, basta preguntar!
–
Hi Celina, the workflow state is not the same of the document status.
When you are creating a Workflow do you need create the States allowed by this workflow.
Like as Approved, Verified, Unapproved
On the top of the transitions rules, have a seccion, where do you need to create these states.
Fell free to ask anything!
Gracias Maxwell, / Thank Maxwell,
Tengo los siguientes estados de flujos de trabajo: / I have the following states Workflow: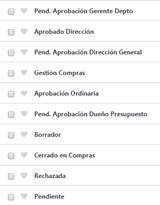 Mi primer estado es Borrador / My first status is Draft



La transición sería:



Cuando pongo el "Siguiente estado" es donde marca el error de: Estado no válido. / WHEN I put "next state" is where the error mark: State invalid.

This error has already been resolved. Thank you very much. First generate all states and after their transitions.