Hello,
I am using erpnext on cloud.
I want to create two Users with one Specific Company permissions to them, I don't want them to see any of Customers, Suppliers, Sales Invoices and Purchase Invoices and Projects except company assigned to them.
I Added User Permission for Company with Value = that company name, Is default= Yes, Apply to All Documents Type = Yes.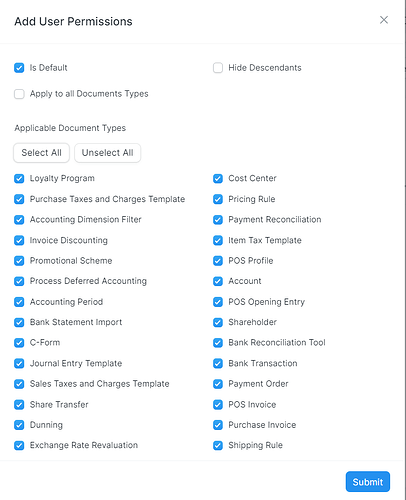 Still they are able to see Suppliers and Customers of another companies, Why?
As I am understanding, from above screenshot selected permissions will be applied to all Doctypes , and user will able to seen only selected company's related doctype?
Is It Right?
Issue number 2.
I created a Customer Group, and mapped 3-4 cutomer in that group.
Now I created another permission for these two users with Customer Group and value Customer_group_name …
now one user is able to see all customers in that group, as i wanted.
but one user is getting belwo error.