I'm aware that there have been a few topics about Easy Install already, but none of them seems to have been properly resolved, so I'm opening this one.
I started on a fresh Ubuntu Server 18.0.4 LTS and followed the easy install instructions.
Following commands were used as User with Sudo rights:
sudo apt-get install python3-dev
After that, following commands were used as root:
cd
apt-get update && apt-get upgrade -y
wget https://raw.githubusercontent.com/frappe/bench/master/playbooks/install.py
python3 install.py --develop --user frappe
After that, the installation failed at this point:
TASK [bench: python3 bench init for develop]
Resulting in a very long error message.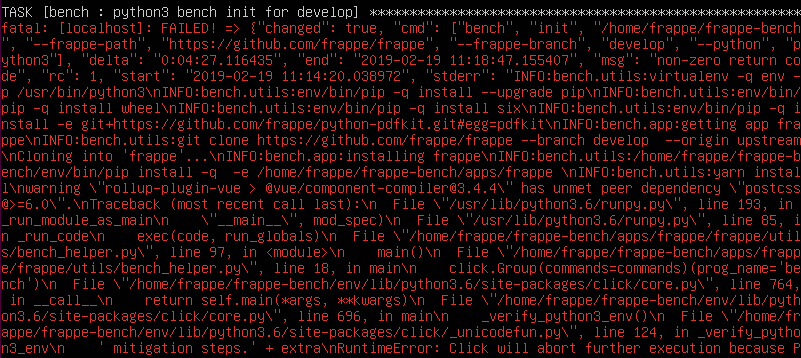 Now I'm a bit puzzled what else I could do. I've been trying to install this since yesterday already, but I'm still a beginner with Frappe and wonder what steps to take from there on.
I would be grateful for some help and if you need to see the rest of the error message, let me know.
Best wishes,
Val