Hi!
I'm trying to create new Erpnext 12 app on frappecloud.com from my Erpnext.com cloud backup (I guess it was Erpnext 11). Backup was stored on Dropbox so now I have the following structure:
erpnext/database/*-subdomain_erpnext_com-database.sql.gz - here lots of gzipped SQL dumps
erpnext/files/* - public files, like avatar.jpg
erpnext/private/files/* - private files, like invoice.pdf
I was able to upload gzipped SQL dump and it seems it passes some validation.
But I can't successfully upload neither private nor private files - it give me 'Invalid Backup file' error.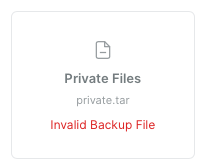 From instruction I saw that I need to upload tar archive, so I tried to do it like this:
tar cf private.tar private - so here I have archive with private file folder with files folder, including all files
and like this from private/files dir:
tar cf private.tar * - so here a I have archive with files without folder
but neither did work.
So could you please guide me how should I prepare tar archive of private and public files to pass validation?