Hi,
Any Possible To Create A Report Like General Ledger,Stock Ledger???
It is possible to create report like Stock Ledger.
Geetanjali Shitole
New Indictrans Technologies Pvt. Ltd.
How To Create a Report Like Stock Ledger???
Please Reply Clearly…
Thanks,
geetanjali
Hi @Mohamed_Sajid,
It takes some programming skills to create reports like General Ledger and Stock Ledger.
If you are interested go through the docs and do some hands on.
Also go through Not Found for your specific General Ledger and Stack Ledger
Thaks @BhupeshGupta …Hi,
Im Create a Simple report Using Only One label…After Editing A .py File…and Click Show Report Ths Error Is Occured…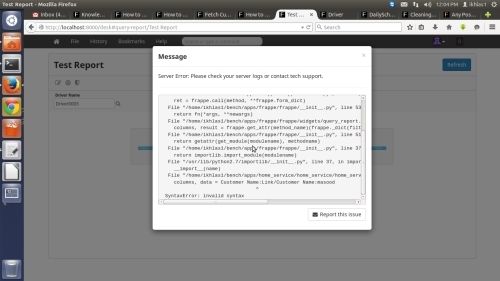 Now I m what ll Do …Pls Give The Clear Information About Ths Error…
How ll Enter The Data Into The .py File…
Thanks