Hi,
Is there any way, that we can make a specific row bold in a Table.
Regards
Ruchin Sharma
Currently there is no option to make row Bold.
But you can make specific field Bold.
Open your doctype in customize form and check Bold for specific field.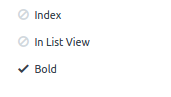 @Sangram
That is know but my requirement is different from this.
Regards
Ruchin Sharma