i have hide learn module but another user showing this module.
Thanx
Thanx for replay
any other solution for this
You can Hide Module for User
goto User list select user .
In that Uncheck Learn Module from Module Access.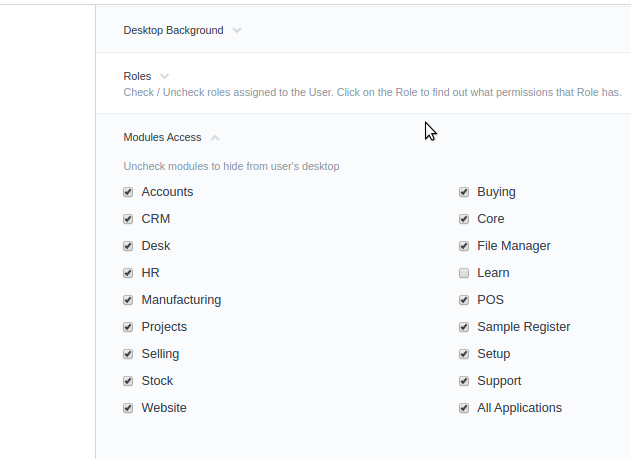 thanx for reply
i have done this but another user is see learn module
@neilLasrado
I tried that at my site.
Its working for other Module's but not applied to Learn Module
Use the Show and Hide Module for restricting users from viewing the Learn Module.
and also removed everything from the Learn.py in erpnext>config>learn.py
I have emptied the Learn.py
Thanks!
But, Restricting users from viewing modules doesn't really work at all; I restricted a user from viewing "Learn" module but, the user can still see the module menu on the left menu bar;
And, by deleting the code from "learn.py" gives the user "Module not found" error, which is a partial solution;
Thanks,
Actually, you can, if you read my post here:
When you edit the module.js file to exclude the "Learn" module, it gets totally disabled for ALL users.