How do one import a bank statement . Then reconcile the entries ?
Hi,
1.Go to "Doc Type" first
2.Search for "Bank Reconciliation"
3.Open Form, Scroll Down
4.In Permission Setting,Check "Allow Import"
5.Save
6.Go to "Data Import tool"
7.Select Document Type As "Bank Reconciliation"
8.Download First Template i.e csv
9. Fill your record in that csv
10. Import it.
I have searched for bank Reconciliation in the Doc Type . But there is no files should I create a new one ?
Hi,
Sorry ,i am not getting what you are saying…
Can you describe or share screenshot?
Or Must I use the journal Entry to Upload a bank statement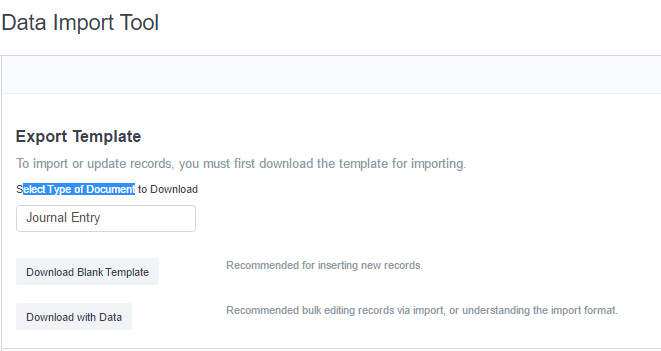 I do not find the "Bank Reconciliation" here. and neither under the "Doc Type".
Hi Shraddha,
I found the Bank reconciliation doc, but unable to change the permission setting.

How do you change the permission to "Allow import"?
Thanks
Hi,
Check whether Developer mode is set to 1 or not.
if developer mode is 1 then only you can Allow it.
Hi thanks for the quick reply.
Where can I find the developer mode setting?
Hi,
go to your respective site
open file "site_config.json " and set
"developer_mode":1
Ah okay, so can only this if it is locally hosted, not the one that hosted by erpnext. Is that correct?
Hi,
yes.
OR do
bench set-config developer_mode 1
Thanks, but this is also only available if it is a locally hosted one I assume.
Yes only on locally hosted setup.
Normally switching to Developer mode should also be possible on a remote server via SSH access. Or you can edit the site config json file.
I enabled developer_mode and able to check 'Allow Import", but when I click "Save" button - it reset that checkbox back to unchecked state. Could you advise? (i already run 'bench update' couple times just to make sure i am on the latest version)
Hi Pavel,
I'm experiencing the same issue. Did you ever get any help with this?
Regards
Kevin
Hi Richard,
Is this related to my query?
Regards
Kevin