okay so spent 3hrs following the step by step guild on how to install erpnext using github instructions.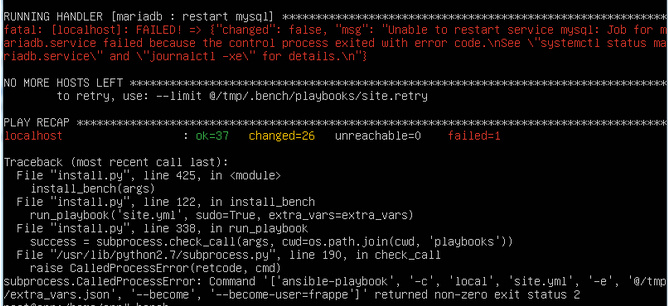 use the above instructions or use the easyinstall script from frappe bench github page
Thanks will try and revert back
Hi ERPNext
Okay i have retried on a fresh Ubuntu , i have managed to get up to the login screen , but i see no user and password details…
What am i doing wrong ?
This what i did :
Followed link on hitchhikers guide :
Which i did …
Then I :
i then started bench within frappe-bench and this is the result…:
Regards'
Salim
Is the mysql/mariadb up?
sudo systemctl status mysql
You could try this…
sudo systemctl stop mysql
sudo mysqlcheck -A --auto-repair
#if successful
sudo systemctl start mysql
There's a good article here
to install erpnext without any problem you have to do theses steps first as i did when i got the same problem under ubunti 18.04 LTS.
1 - remove completly mysql / mariadb …
2 - remove python completly and it will remove also the install lists
3 - follow theses steps :
Log in as root
su -
Update the system and install necessary packages
apt-get update && sudo apt-get -y upgrade
apt-get install wget python-minimal

Download install script :
cd && wget https://raw.githubusercontent.com/frappe/bench/master/playbooks/install.py
Start the installation by command below :
python install.py --production --user frappe
During the installation process, the script will ask you for a MariaDB root password and a Frappe Administrator password which you can use later on to login to the ERPNext dashboard. Make sure to use a strong password.
The installation will take some time and if it is successful, you will see something like this:
Frappe/ERPNext has been successfully installed!
I think I may have mistakenly told you to stop the mysql - that probably won't work so well

You can add/specify the user and password with these commands
-u UserNameForYourSetup
-p PassWordForYourSetup
user in this case is probably root and the password is whatever you set up
Thanks Redabox
Will definitely try this out and revert back to you.
Regards
Salim