Allot all possible roles to yourself.
Coming to your query, General Ledger's reference doctype is GL Entry. Hence the user must have a role that has the report permission on GL Entry - or to generalize -
To access a certain report X that has Y has its reference doctype, the user should have a role Z on doctype Y which has atleast read and report permissions.
Thank you sooo much , it's help me.
Appreciated…
At Role Permission, for that user "Only If Creator" is checked
At Role Permission for Page and Report, I had given right for that user but I can't see reports properly.

I had problems with General Ledger Report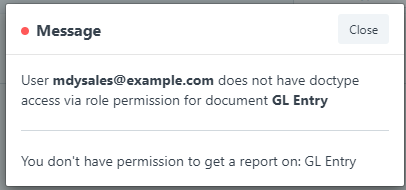 I got above message
Can someone help me, how to solve it out?
I need help, can someone tell me how to solve it out?
Thanks
If "Only if Creator" is disabled, can see the report or also can't?
If "Only if Creator" is disabled, also can't
I need to see it
thanks