Issues with Gant Diagram on ERPNext.
Hello ERPNext team,
right now our team is evaluating the project module and we have noticed some strange behaviours which you could maybe explain to us.
In the project module we have the opportunity to create Gantt charts from our tasks.
STEP1: Our current workflow is first to create some tasks
STEP2: Now we want to say that "Send issue" is depending on "Write issue".
So we add it in the "Write issue" task
STEP3: Now this is our current Gantt chart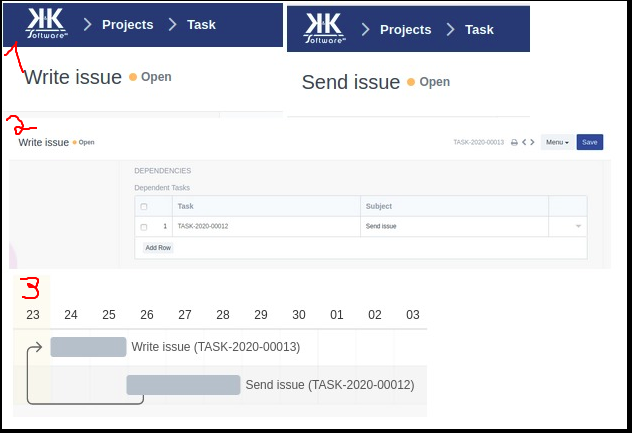 And here are the problems we are confronted with
Why is the arrow pointing in the wrong direction? The arrow should point like: "Write issue" → "Send issue"

If you delete the dependency we created in "Write issue", the dependency in the Gantt chart still remains. This is fatal because it can destroy a whole chain you have created

Is it not possible to work from the Gantt chart? Like clicking on a task and edit it or change the duration of a task by dragging it on the Gantt chart

Is the performance optimized for the Gantt charts? Some of our Gantt charts we created took 100% CPU and brought our browsers to crash (Firefox and chrome)

Why do milestones have such a long duration?
Thanks for answering and helping us out!
Best wishes,
Dietmar Fischer From K&K Team