Hi,
I am trying to setup sparkpost account with my erpnext account and I seem to be getting the below scheduler log for sending emails
(550, '5.7.1 Unconfigured Sending Domain <gmail.com>')
Traceback (innermost last):
  File "/home/frappe/frappe-bench/apps/frappe/frappe/email/bulk.py", line 294, in send_one
    smtpserver.sess.sendmail(email["sender"], email["recipient"], encode(email["message"]))
  File "/usr/lib64/python2.7/smtplib.py", line 745, in sendmail
    raise SMTPDataError(code, resp)
 SMTPDataError: (550, '5.7.1 Unconfigured Sending Domain <gmail.com>')

Now this error comes when I use the following settings as below: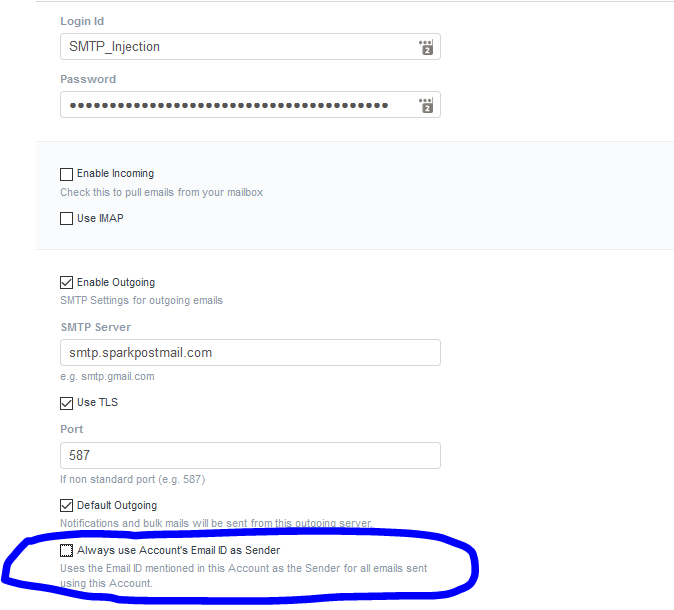 Now basically the erpnext system is trying to send email via sparkpost with TO: field as "aditya@gmail.com" but in my account I have only configured the sending domain for "xyz.com" since I don't own gmail.com.
Now the emails go out fine with the Always use account's email ID as sender as CHECKED.
Now my question is that how can I use the above check box unchecked and still be able to use sparkpost to send emails as we are using the user's email ID to be sender's email id and not the email account's email id.
Should I change the user_id and password or something else.