I am having some interesting behavior of the dialog boxes that pop up in the platform. I am running Windows 10 x86 and use both Chrome 55.0.2883.87 and Internet Explorer 11.576.14393.0 (both latest and greatest). This behavior has been going on for some time and I am just now getting to posting on it to see what the community thinks.
So what is happening is the dialog will often come up at bottom of the screen or just below the row in a table I am trying to edit.

In IE, I have to scroll down and then edit the fields. I can then click on the title bar or the little up arrow in the right corner and the dialog will close. (and while not really tied to this post it should be noted that in IE the Ctrl-Up, Ctrl-Down and Esc keys don't do anything)
In Chrome, the same thing happens, but when I click somewhere on the dialog box the whole page dialog and all will scroll to the top of the screen. This produces some really strange look and feel like the screen shot below. I clicked on the field type drop down box and then the whole thing scrolls to the top of the screen. If I click on the drop down box a second time after the scroll up thing, then it works fine. (and for the record the Ctrl-Up, Ctrl-Down and Esc keys work fine on dialogs in Chrome)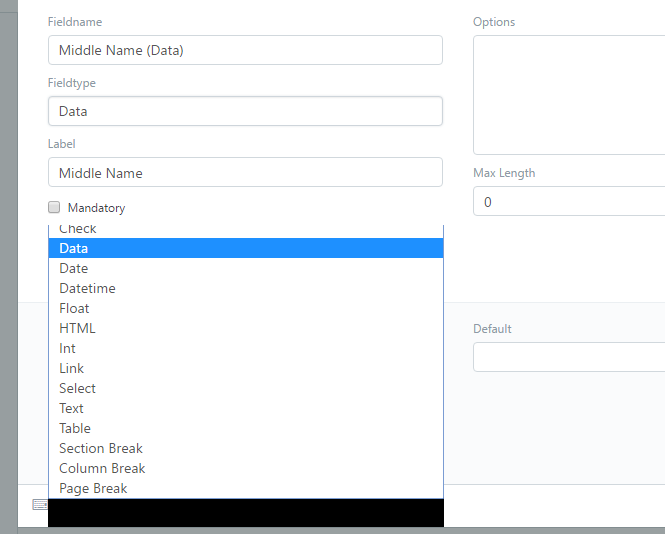 What is interesting is if I test using Chromium browser on my Debian Linux Server in Gnome desktop, the auto scrolling behavior does not happen. The dialog will still open near bottom of page and I have to manually scroll down to edit. Kind of like the IE behavior on Windows.
I have not tested other browsers like MS Edge, FireFox or Safari. However all three of those browsers use the same webkit backend like Chrome does.
Any thoughts would be welcome. I can't tell if this is a bug or something else.