Hi,
I have tried doing bench update I got an error message saying,


After an investigation, I did git status


It looks that file item.json get modified am I right?
question : I have implemented an item naming series based on item group, so Item code get generated automatically like below figure: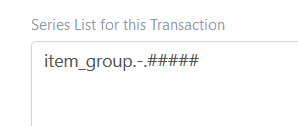 Do above changes in item.json is related to implemented naming series?
If yes this is configuration from front end do not have any relation with back end changes it should be accepted during bench update?
What is the correct way to proceed with bench update?
Thanks a lot