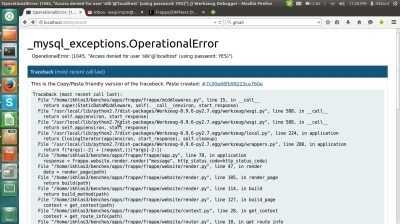 What s Problem?
Thanks
Hi,
This means that erpnext is not able to access mysql with the
username (same as dbname) and password in conf.py.
Your conf.py did not get created correctly. the %(db_name)s should be replaced by the name you gave at time of install…
You can try again or fix conf.py with the correct credentials.
Shraddha Ranjane
New Indictrans Technologies Pvt. Ltd.
Hi where I can find conf.py in the latest version?
Under the frappe-bench Directory
/frappe-bench/sites/Site_Name/
site_config.json file stores the DB Info.
Thanks