Hi Guys,
I'm just stuck with this issue of having outgoing emails sent as coming from the logged-in user's own email address. It doesn't work.
I always get an error like this:
(501, '<User>: sender address must contain a domain', u'User &lt;user@mydomain.com&gt;')
From this thread, @rmehta mentioned that
All users in erpnext use the common gateway, the emails will be sent by the individual users, but all replies will come to one id and they will automatically be tagged to the right document.
Please correct me if I understood it wrong - I take it @rmehta means each logged in user should be able to send emails from the ERPNext with their own email address as the sender, although the message will just be sent via a common gateway (or a common smtp account which is the default outgoing account?).
So in my email settings, I tried unchecking the Always use Account's Email ID as Sender for my default sending email account.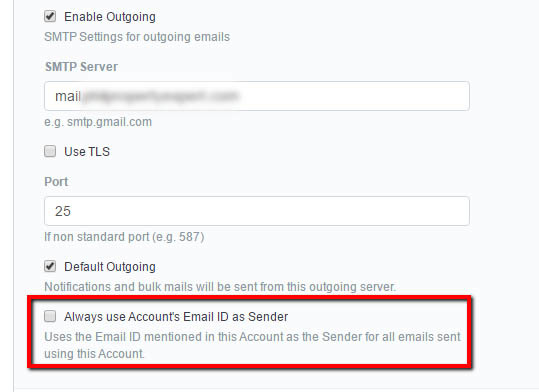 This should allow what I want right? - which is to let each user send emails as if sending from their own email address.
However, if I leave that option unchecked, the emails don't get sent and I get those errors I mentioned above. If I check the box, the emails get sent, but they are coming from my default sending email address.
I think I can just make a little change to the source code fix this problem. I just don't know where exactly should I look into. Can anyone point me to the right direction pls?