I'm trying to populate a field with a value based on the value from another field in Sales Order Item.
So when a user chooses item_code == "Artwork" I want job_type to populate automatically with "New".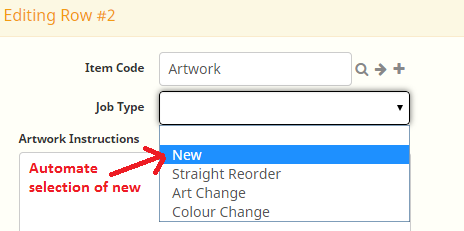 This is the script code I'm trying:
<input type="Link" name="item_code" onChange="fixField();">
<input type="Select" name="job_type">

<script language="javascript">
	function fixField() {
		if (doc.item_code=="Artwork") {
			doc.job_type="New";
		}
	}
</script>

I've tried a few variations but none work - input type = "text", using doc.item_code.value syntaxt, etc.
All to no avail.
Can anyone help this javascript n00b get this working please?
Thanks