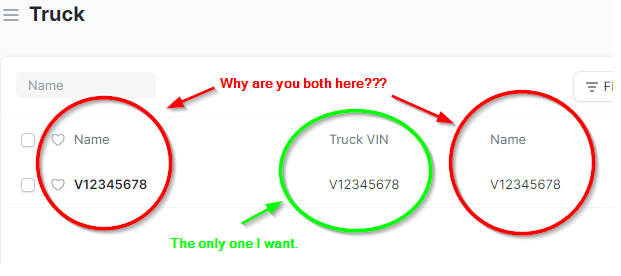 If I want to have the 'name' of a document be based on something like "Truck VIN", I can create a field truck_vin, and then have the naming for the doctype be based on that field:truck_vin.
Great! That all works fine.
But if I want to have a <th> in the list view with "Truck VIN" instead of "Name" then I have to add the "Truck Vin" field to list view settings.
However, since "name" is not removable from the <th>list, the following columns are shown when I only want a single column…
Name | Truck Vin | Name
(all 3 fields being the same thing).
That's silly.
Why is "Name" being repeated at as the last <th> anyway? Isn't one forced non-removable "doc.name" field enough?
Questions…
Is it possible to change the label/display name of name field? (for list view table header)

Is it possible to remove the repeating 'name' field at the end of the list view?