Dear ladies and gentlemen,
I like to switch to Version 5 because I like the new design and functionality very much.
I set up an test environment (completely new, no update) and checked the used features in V4.
I habe a problem with the tax rates, especially using the option "tax included in basic rate".
I use two kind of price lists and two kind of taxes.
Consumer price list and consumer taxes (taxes are included in price to show the gross price in order or invoice on any item and show the included tax separately)
business price list and business taxes (taxes are not included in price, tax is calculated based on net total.
If I use business price everything is fine. If i try to use consumer price, the item list is calculated fine. The taxes are not calculated correctly and I can not save the sales order.
In the popup of the taxes sometimes the taxes are calulated fine, but not showing right in the sales order.
On the following screens you can see the difference. Also if I try to save, it is not possible. The sales order form only scrolls to top.
Can you please give me any proposal to solve this problem?
Thank you very much
Thilo
In the following screen taxes are calulated right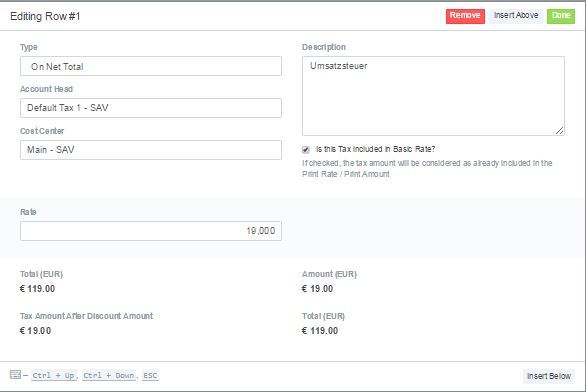 In this screen you see the difference in taxes…