I am unable to use my site with a registered hostname but its working fine with IP:8000.
Steps taken till now:
I installed my ERPNext dev setup on a fresh digital ocean droplet ,

then i wanted to open it with a website like subdomain.domain.com … so i had a domain registered under registrar 1 & 1 ,
so i followed the steps to transfer the dns server .
1.entered the dns names of DO in the domain name
2. Then went to DO(digital ocean) and added the domain in "add a domain" part .
3,Went to A record and added my subdomain which i wanted in the hostname part instead of "@" and directed it to my droplet IP(doesnt let you specify port.)
Later i realized that you have to create the subdomain also in the registrar i.e 1 &1 , so went ahead and did that and changed its dns setting to DO as well.
On server side:
i setup production by sudo bench setup production username

and in common_site_config.json changed webserver_port to port 80 —"webserver_port": 80
.
checked in site_config.json of site under domain names it had my subdomain.domain name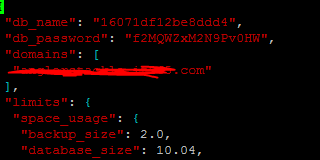 Its still working for IP:8000
But when i enter the site it does not show , and shows temp 1&1 page

What have i done Wrong?