Saw this online so sharing here if community members are using any of the providers.
Interesting article, but it "may" be a hoax.
I have several KVM type VPS servers with one of the 20 providers named in the article.
On SnowVPS I am currently running several different versions of ERPNext. This is where I test things like version upgrades, etc.
Up to this point I have NOT received any of the notices as discussed in the article, but my sites are also running just fine.
I will check periodically throughout the day to see if they get shut down, but I am not inclined to think that will happen. However, I will post again here if SnowVPS shuts down their services.
BKM
Well, as promised, I am back to post about the results of the VPS shut-down scare.
It appears it may have been a hoax (at least from my perspective).
All of my SnowVPS sites are still up and running and actually performing better than usual. This is probably due to the scare tactic probably forcing many users to abandon their servers for fear of losing everything.
Sadly, the publicity of this "doomsday" scare also appears to have triggered the 3rd party financial company that manages the payments and automatic subscriptions for SnowVPS to drop them. The 3rd party company sent me emails indicating they were canceling my subscription payments last night. Since I am paid ahead for a few months, I will not be impacted as hard as possibly some of their other clients.
So, here I am a day after the supposed VPS shut-down event and I am still active on the servers of at least one of those companies listed as being closed. The company has been overwhelmed with email and sent me an auto-reply indicating as much when I reached out for instructions about future payments.
I will give it some more time, but for now, I am not convinced this was a real threat. More later if anything changes.
BKM
OK…
I must admit, that I thought this was a hoax at first because my sites remain operational and I received no notices from the provider of any changes.
It now appears that I was WRONG on my assumptions!
SnowVPS finally got back to me with an answer to my direct questions about how to proceed for keeping the servers active and paying the monthly bills. Here is what they said: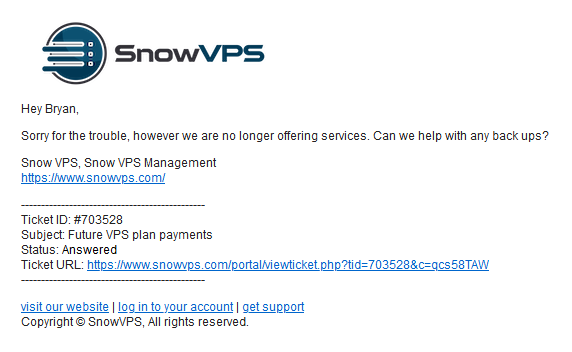 So, I spent the morning backing everything up to an alternate server and I will start looking for alternate server space for doing my installation and upgrade process testing.
(BTW… Google Cloud Platform has also changed their cost structures and increased their restrictions on servers that I used to test in their environment. This makes them no longer a suitable testing location for me as well.) Ugh!!
A very big THANK YOU for @Muzzy for the heads up about this possibility because the service providers are evidently NOT telling their server clients about the issue unless they ask!
Hope everyone else got their stuff worked out. I do not know when exactly the servers will be shut off, but it is certain that they will go down eventually.

BKM
Your most welcome. Glad to help. I got the news from @Not_a_countant LinkedIn feed which I shared here. Credit to him for being first to post it. Try Contabo. They are reasonably priced. We have moved most of our servers there from Digital Ocean and Vultr.
Hi @Muzzy
I sent you a couple of PMs, are you getting them?
Regards
If you are scrambling for new hosting today you really should check out Prometeus I have been using them for nearly a decade and have yet to find a less expensive option. Their support staff are very capable and responsive.
I can't praise them highly enough.
Update (next day). Please see my later post below.
Eg:
VPS SSD PRO7
Professional SSD VPS
Full root access
VPS SSD PRO7€3.90
 » Operating System: ubuntu-16.04-x86_64€0.00
 » RAM: 4 GB€4.00
 » SSD Disk Space: 50GB€1.50
 » Bandwidth: 2000 GB€0.00
 » vCPU: 2€1.00
 » Number of IPs: 1€0.00
 » Location: Italy€0.00
Setup Fees:€0.00
Monthly:€10.40
VAT @ 22.00%:€2.29
€12.69

They also have bill-by-the-hour VMs :
vCPU				4 vCPU
RAM					4 GB
IPs					1
Incoming Traffic	FREE
Outgoing Traffic	2 TB / Month
€/ Hour				€ 0.020 / Hour

50 GB DISK			€ 0.005 / Hour
						--------
€/ Month			€ 18.00 / Month

These VMs are hosted in Apache CloudStack so you have complete control over ISOs,OS installation Storage and Storage Templates, Snapshots, starting, stopping and reverting to earlier snapshots, either via the CloudStack admin portal or through the REST API with cURL, Postman or whatever.
Able to start and end VM usage during testing and staging in a CI/CD process means you're unlikely to find a cheaper option.
Yes. Got them. Let me come back to you on Tuesday.
Yup… checked them out. Their "Professional SSD VPS" service is OpenVZ based and not really a good choice for running ERPNext. OpenVZ virtualization shares the linux kernel across all servers instead of allowing fixed assets like KVM or XEN server virtualization. KVM and XEN are the best for running a busy ERPNext server because you can be guaranteed a specific set of minimum specifications that other servers on the same hardware box cannot impede against. OpenVZ shares the resources more fluidly and if another server hosted on the same box suddenly starts a memory or disk intensive process, your server could crash or simply time out and not be able to run your own applications when the resources are shifted to the first one to demand the extra memory or CPU time.
Prometeus does have XEN server plans but they are significantly more expensive than what is available from other providers.
I did however place them in my catalog of providers to keep checking on in case they change their pricing policies.

I switched most of my clients services to Interserver. Their lowest end KVM server is 2gb of memory, 30gb of SSD, 1 CPU, and 2TB of transfer for just $6 per month on a per month basis. No need to buy a year or more in advance to get the good deals. The one I use most is their 4gb memory, 60gb SSD , 2 CPU, and 2TB transfer for $12 a month. They also have OpenVZ if that is what you want and it cost the same as the KVM servers.
The low end providers that recently went down are the ones that I bought to run installation testing on and typically only paid $39 for the whole year or $3.79 per month on a monthly basis. They were all KVM type services, with 4gb memory and 2 to 4 CPUs. They were better than the GCP service, and the performance was usually very good. So it is not a great loss, but it will be inconvenient for a while as I replace them.
BKM
Ooops, damn.
I wrote all that up quite quickly and didn't notice I was referring to the OpenVZ offerings.
I detest OpenVZ, having spent, as a noob, a long time … like project overrun long time … trying to get a JBoss project working on it. Garrr !!
Prometeus is out of stock today for this KVM :
KVM SSD 5
2 GB Dedicated RAM
70 GB SSD Disk
2 vCore
1 IPv4, /64 IPv6 Addresses
4000 GB Dedicated internet bandwidth
Italy Location
Starting from $6.00 Monthly

But here's a beefier one with 9 available (6 in Italy, 3 in Holland) today:
KVM SSD 7
4 GB Dedicated RAM
140 GB SSD Disk
2 vCore
1 IPv4, /64 IPv6 Addresses
6000 GB Dedicated internet bandwidth
Italy Location
Starting from $10.00 Monthly

Their Apache Cloudstack has been a total life saver for me. The API allows me to start and stop and revert snapshots in seconds of full blown server machines for about the same price as an NGrok subscription!
Thanks @MartinHBramwell for the link to their KVM services. The price is pretty close to what I use now and their ping time is not terrible so they might be a great alternative to my USA based providers when things get crazy here.
Better yet, I could use them as backup servers for when backbone services between here and the New York financial district goes down (or gets DDoS attacked). Using a European provider would probably be the best alternative.


BKM
They've been around a long time and are continuously improving, very slowly, but solidly. I've interacted with the same 2 people all this time, since Aug 2012, in fact. I've never seen them advertise. I have seen them out of stock of available new VPSs for weeks at a time, as if they're saving up to acquire yet more capacity. Also payments go to the founder directly, it seems. I think it may literally be a Mom & Pop shop, like Radio Paradise.