Which version you are using? Please error console from browser.
When i login to Erp…this message is come>…
How To Slove this issue???

Cust group is empty,its no way to create a new cust group…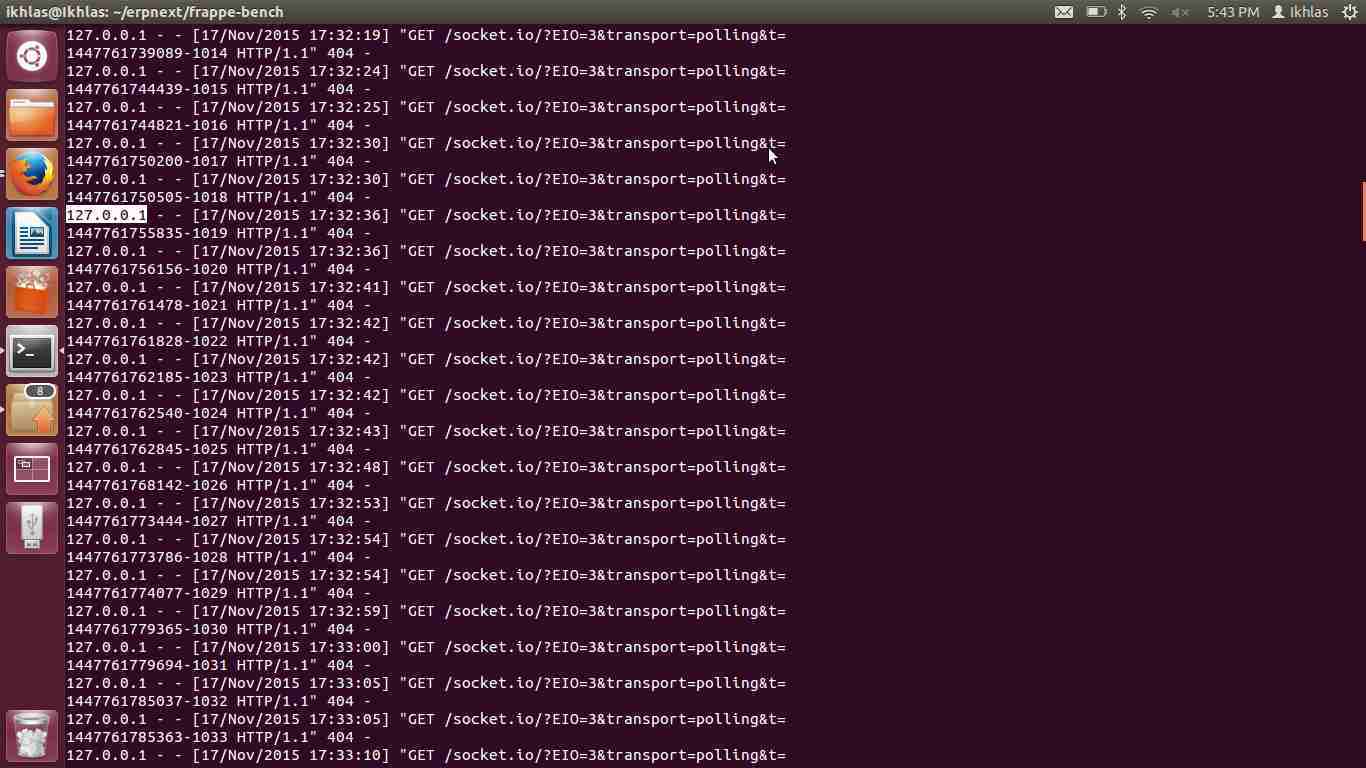 Item Group And Customer Is Not working In my latest version…How to fix this error???/
Have you done any customizations?
No Cutomization…Fresh Installation…
All The Group Are not working…How to fix this error
Run following comand and then check.
bench update
bench setup socketio
bench setup procfile

WhenEver I Update the bench…
ikhlas@Ikhlas:~/erpnext/frappe-bench$ bench update
Already up-to-date.
Requirement already satisfied (use --upgrade to upgrade): Pillow in ./env/lib/python2.7/site-packages
From GitHub - frappe/frappe: Low code web framework for real world applications, in Python and Javascript
branch master → FETCH_HEAD
Already up-to-date.
From GitHub - frappe/erpnext: Free and Open Source Enterprise Resource Planning (ERP)
branch master → FETCH_HEAD
Already up-to-date.
Traceback (most recent call last):
File "/usr/lib/python2.7/runpy.py", line 162, in _run_module_as_main
"main", fname, loader, pkg_name)
File "/usr/lib/python2.7/runpy.py", line 72, in _run_code
exec code in run_globals
File "/home/ikhlas/erpnext/frappe-bench/apps/frappe/frappe/utils/bench_helper.py", line 79, in
main()
File "/home/ikhlas/erpnext/frappe-bench/apps/frappe/frappe/utils/bench_helper.py", line 16, in main
click.Group(commands=commands)(prog_name='bench')
File "/home/ikhlas/erpnext/frappe-bench/env/local/lib/python2.7/site-packages/click/core.py", line 700, in call
return self.main(*args, **kwargs)
File "/home/ikhlas/erpnext/frappe-bench/env/local/lib/python2.7/site-packages/click/core.py", line 680, in main
rv = self.invoke(ctx)
File "/home/ikhlas/erpnext/frappe-bench/env/local/lib/python2.7/site-packages/click/core.py", line 1027, in invoke
return _process_result(sub_ctx.command.invoke(sub_ctx))
File "/home/ikhlas/erpnext/frappe-bench/env/local/lib/python2.7/site-packages/click/core.py", line 1027, in invoke
return _process_result(sub_ctx.command.invoke(sub_ctx))
File "/home/ikhlas/erpnext/frappe-bench/env/local/lib/python2.7/site-packages/click/core.py", line 873, in invoke
return ctx.invoke(self.callback, **ctx.params)
File "/home/ikhlas/erpnext/frappe-bench/env/local/lib/python2.7/site-packages/click/core.py", line 508, in invoke
return callback(*args, **kwargs)
File "/home/ikhlas/erpnext/frappe-bench/env/local/lib/python2.7/site-packages/click/decorators.py", line 16, in new_func
return f(get_current_context(), *args, **kwargs)
File "/home/ikhlas/erpnext/frappe-bench/apps/frappe/frappe/commands.py", line 29, in _func
ret = f(frappe._dict(ctx.obj), *args, **kwargs)
File "/home/ikhlas/erpnext/frappe-bench/apps/frappe/frappe/commands.py", line 854, in backup
odb = scheduled_backup(ignore_files=not with_files, backup_path_db=backup_path_db, backup_path_files=backup_path_files, force=True)
File "/home/ikhlas/erpnext/frappe-bench/apps/frappe/frappe/utils/backups.py", line 147, in scheduled_backup
odb = new_backup(older_than, ignore_files, backup_path_db=backup_path_db, backup_path_files=backup_path_files, force=force)
File "/home/ikhlas/erpnext/frappe-bench/apps/frappe/frappe/utils/backups.py", line 151, in new_backup
delete_temp_backups(older_than = frappe.conf.keep_backups_for_hours or 48)
File "/home/ikhlas/erpnext/frappe-bench/apps/frappe/frappe/utils/backups.py", line 162, in delete_temp_backups
file_list = os.listdir(get_backup_path())
OSError: [Errno 2] No such file or directory: './28452f2ee9/private/backups'
Traceback (most recent call last):
File "/usr/local/bin/bench", line 9, in
load_entry_point('bench==0.92', 'console_scripts', 'bench')()
File "/home/ikhlas/erpnext/bench-repo/bench/cli.py", line 60, in cli
bench()
File "/usr/local/lib/python2.7/dist-packages/click/core.py", line 700, in call
return self.main(*args, **kwargs)
File "/usr/local/lib/python2.7/dist-packages/click/core.py", line 680, in main
rv = self.invoke(ctx)
File "/usr/local/lib/python2.7/dist-packages/click/core.py", line 1027, in invoke
return _process_result(sub_ctx.command.invoke(sub_ctx))
File "/usr/local/lib/python2.7/dist-packages/click/core.py", line 873, in invoke
return ctx.invoke(self.callback, **ctx.params)
File "/usr/local/lib/python2.7/dist-packages/click/core.py", line 508, in invoke
return callback(*args, **kwargs)
File "/home/ikhlas/erpnext/bench-repo/bench/cli.py", line 240, in _update
update(pull, patch, build, bench, auto, restart_supervisor, requirements, no_backup, upgrade, force=force)
File "/home/ikhlas/erpnext/bench-repo/bench/cli.py", line 272, in update
backup_all_sites(bench=bench_path)
File "/home/ikhlas/erpnext/bench-repo/bench/utils.py", line 365, in backup_all_sites
backup_site(site, bench=bench)
File "/home/ikhlas/erpnext/bench-repo/bench/utils.py", line 361, in backup_site
run_frappe_cmd('–site', site, 'backup', bench=bench)
File "/home/ikhlas/erpnext/bench-repo/bench/utils.py", line 489, in run_frappe_cmd
raise CommandFailedError(args)
bench.utils.CommandFailedError: ('–site', '28452f2ee9', 'backup')
ikhlas@Ikhlas:~/erpnext/frappe-bench$