Continuing the discussion from CREDIT NOTE - Negative Value / Credit Note Issued:
Continuing this old thread…
This has become something long frustrating and resentment task for me to generate proper series for credit note.
As I know there is no separate document called sales return. A return (or credit note) in ERPNext is effectively a Sales Invoice which is reversed. So in this case the base document remains the same ,ie, Sales Invoice.
To differentiate a return from a regular invoice what i did is…
Created a separate print format & naming series for Returns
Below image is Credit note issued which is carrying sales invoice number. A credit note which is carrying invoice number in Credit Note number is redundant as long as we reference number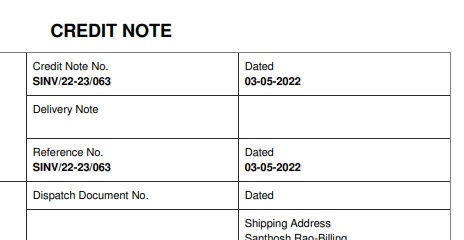 Also I have return invoice which is carrying unique credit note number which I created is showing in negative value which is perfectly fine
Having said above what I require is I need my unique credit note number (CRN/22-23) should appear in Credit Note Issued format
As per my knowledge the best practice would be to show a return as a return and not a sales invoice.
Have I fundamentally misunderstood something here?
Is there any less volatile proceedure the resolve this
Any help on the please
Thanks
Rakshitha