Here I am sharing my knowledge how I created a Sales KPI Dashboard with Metabase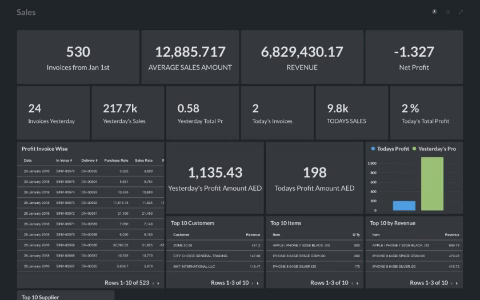 ---
Start an AWS Instance and install Docker - Link
Install Metabase by docker run -d -p 80:3000 --name metabase metabase/metabase (I installed on port 80 (http://example.com) and you have to make sure port 80 is opened on your AWS EC2 Management Console → Security Groups)

---
Now we have to enable MariaDB to accept remote connections.
SSH to your server
same like you opened the port 80 on your Metbase Docker server you need to open port 3306. Use Custom and enter the Metabase Docker public ip/32
On the /etc/mysql/my.cnf file add your Reporting Time Zone. For me it is set to +4:00 for UAE. Otherwise you might get wrong date/time
now we need to create a read only user on mysql server (same server where you SSHed) to pull the data to Metabase server.
CREATE USER 'user_remote_R_only'@'localhost' IDENTIFIED BY 'myStrongeSTpassword';
CREATE USER 'user_remote_R_only'@'%' IDENTIFIED BY 'myStrongeSTpassword';
GRANT SELECT ON . TO 'user_remote_R_only'@'localhost';
GRANT SELECT ON . TO 'user_remote_R_only'@'%';
flush privileges;
Restart the MYSQL Server sudo service mysql restart
---
Access the Metabase Dashboard and configure the sql connection
Thats all…
---
Below some SQL Queries I used to create the Dashboard
---
Total Invoice Count
SELECT count(*) AS count
FROM tabSales Invoice
WHERE tabSales Invoice.docstatus = 1
---
Average Sales Amount
SELECT avg(tabSales Invoice.base_grand_total) AS avg
FROM tabSales Invoice
WHERE tabSales Invoice.docstatus = 1
---
Total Revenue
SELECT sum(tabSales Invoice.grand_total) AS sum
FROM tabSales Invoice
WHERE tabSales Invoice.docstatus = 1
---
NET Profit
SELECT
#tabSerial No.sales_invoice,
#tabDelivery Note.name,
#SUM(tabSerial No.purchase_rate) AS Purchase Rate,
#SUM(tabDelivery Note Item.rate) AS Sales Rate,
#SUM(tabDelivery Note Item.rate) - SUM(tabSerial No.purchase_rate) AS 'Profit',
(SUM(tabDelivery Note Item.rate) - SUM(tabSerial No.purchase_rate))/ SUM(tabSerial No.purchase_rate) * 100 AS 'Margin'
FROM tabDelivery Note
INNER JOIN tabSerial No
ON tabDelivery Note.name = tabSerial No.delivery_document_no
INNER JOIN tabDelivery Note Item
ON tabDelivery Note.name = tabDelivery Note Item.parent AND tabDelivery Note Item.item_name = tabSerial No.item_name
WHERE tabDelivery Note.name = tabDelivery Note Item.parent AND tabDelivery Note.docstatus = 1
---
Yesterday's Invoice Count
SELECT count(*) AS count
FROM tabSales Invoice
WHERE (date(tabSales Invoice.posting_date) = date(date_add(now(), INTERVAL -1 day))
AND tabSales Invoice.docstatus = 1)
---
Yesterday's Grand Total Sales
SELECT sum(tabSales Invoice.grand_total) AS sum
FROM tabSales Invoice
WHERE (date(tabSales Invoice.posting_date) = date(date_add(now(), INTERVAL -1 day))
AND tabSales Invoice.docstatus = 1)
---
Yesterday's Total Profit in %
SELECT
#tabSerial No.sales_invoice,
#tabDelivery Note.name,
#SUM(tabSerial No.purchase_rate) AS Purchase Rate,
#SUM(tabDelivery Note Item.rate) AS Sales Rate,
#SUM(tabDelivery Note Item.rate) - SUM(tabSerial No.purchase_rate) AS 'Profit',
(SUM(tabDelivery Note Item.rate) - SUM(tabSerial No.purchase_rate))/ SUM(tabSerial No.purchase_rate) * 100 AS 'Margin'
FROM tabDelivery Note
INNER JOIN tabSerial No
ON tabDelivery Note.name = tabSerial No.delivery_document_no
INNER JOIN tabDelivery Note Item
ON tabDelivery Note.name = tabDelivery Note Item.parent AND tabDelivery Note Item.item_name = tabSerial No.item_name
WHERE tabDelivery Note.name = tabDelivery Note Item.parent AND DATE(posting_date) = DATE(NOW() - INTERVAL 1 DAY) AND tabDelivery Note.docstatus = 1;
---
Today's Invoice Count
SELECT count(*) AS count
FROM tabSales Invoice
WHERE (tabSales Invoice.docstatus = 1
AND date(tabSales Invoice.posting_date) = date(now()))
---
Todays Profit in %
SELECT
#tabSerial No.sales_invoice,
#tabDelivery Note.name,
#SUM(tabSerial No.purchase_rate) AS Purchase Rate,
#SUM(tabDelivery Note Item.rate) AS Sales Rate,
#SUM(tabDelivery Note Item.rate) - SUM(tabSerial No.purchase_rate) AS 'Profit',
(SUM(tabDelivery Note Item.rate) - SUM(tabSerial No.purchase_rate))/ SUM(tabSerial No.purchase_rate) * 100 AS 'Margin'
FROM tabDelivery Note
INNER JOIN tabSerial No
ON tabDelivery Note.name = tabSerial No.delivery_document_no
INNER JOIN tabDelivery Note Item
ON tabDelivery Note.name = tabDelivery Note Item.parent AND tabDelivery Note Item.item_name = tabSerial No.item_name
WHERE tabDelivery Note.name = tabDelivery Note Item.parent AND DATE(posting_date) = CURDATE() AND tabDelivery Note.docstatus
= 1
---
Today's Sales
SELECT sum(tabSales Invoice.grand_total) AS sum
FROM tabSales Invoice
WHERE (date(tabSales Invoice.posting_date) = date(now())
AND tabSales Invoice.docstatus = 1)
---
Profits Invoice Wise - Table View Output
SELECT DISTINCT
DATE_FORMAT(tabDelivery Note.posting_date,"%d %M %Y") AS 'Date',
tabSerial No.sales_invoice AS 'Invoice #',
tabDelivery Note.name AS 'Delivery #',
SUM(tabSerial No.purchase_rate) AS Purchase Rate,
SUM(tabDelivery Note Item.rate) AS Sales Rate,
SUM(tabDelivery Note Item.rate) - SUM(tabSerial No.purchase_rate) AS 'Profit',
(SUM(tabDelivery Note Item.rate) - SUM(tabSerial No.purchase_rate)) / SUM(tabSerial No.purchase_rate) * 100 AS 'Margin'
FROM tabDelivery Note
INNER JOIN tabSerial No
ON tabDelivery Note.name = tabSerial No.delivery_document_no
INNER JOIN tabDelivery Note Item
ON tabDelivery Note.name = tabDelivery Note Item.parent AND tabDelivery Note Item.item_name = tabSerial No.item_name
WHERE tabDelivery Note.name = tabDelivery Note Item.parent AND tabDelivery Note Item.docstatus = 1
GROUP BY tabSerial No.sales_invoice
ORDER BY tabSerial No.sales_invoice DESC
---
Yesterday's Profit Amount - Number Output
SELECT
#tabSerial No.sales_invoice,
#'tabDelivery Note.name,
#SUM(tabSerial No.purchase_rate) AS Purchase Rate,
#SUM(tabDelivery Note Item.rate) AS Sales Rate,
SUM(tabDelivery Note Item.rate) - SUM(tabSerial No.purchase_rate) AS 'Profit'
#(SUM(tabDelivery Note Item.rate) - SUM(tabSerial No.purchase_rate))/ SUM(tabSerial No.purchase_rate) * 100 AS 'Margin'
FROM tabDelivery Note
INNER JOIN tabSerial No
ON tabDelivery Note.name = tabSerial No.delivery_document_no
INNER JOIN tabDelivery Note Item
ON tabDelivery Note.name = tabDelivery Note Item.parent AND tabDelivery Note Item.item_name = tabSerial No.item_name
WHERE tabDelivery Note.name = tabDelivery Note Item.parent AND DATE(posting_date) = DATE(NOW() - INTERVAL 1 DAY) AND tabDelivery Note.docstatus = 1;
---
Today's Profit Amount
SELECT
#tabSerial No.sales_invoice,
#tabDelivery Note.name,
#SUM(tabSerial No.purchase_rate) AS Purchase Rate,
#SUM(tabDelivery Note Item.rate) AS Sales Rate,
SUM(tabDelivery Note Item.rate) - SUM(tabSerial No.purchase_rate) AS 'Profit'
#(SUM(tabDelivery Note Item.rate) - SUM(tabSerial No.purchase_rate))/ SUM(tabSerial No.purchase_rate) * 100 AS 'Margin'
FROM tabDelivery Note
INNER JOIN tabSerial No
ON tabDelivery Note.name = tabSerial No.delivery_document_no
INNER JOIN tabDelivery Note Item
ON tabDelivery Note.name = tabDelivery Note Item.parent AND tabDelivery Note Item.item_name = tabSerial No.item_name
WHERE tabDelivery Note.name = tabDelivery Note Item.parent AND DATE(posting_date) = CURDATE() AND tabDelivery Note.docstatus = 1;
---
Please check my queries and correct me if it is wrong… Also contribute more queries here… Happy Dashboarding