Receiving this error on opening the Erpnext VM
Hi I am still getting this error could you please check?
As per the recent upgrade, images are not shown in the list view.
Can you please share the screenshot of error received?
Hi @umair
Please find the screenshot.
For Row no. 9, is field "In List View" checked? It's screenshot will be helpful.
@umair : Please find the attached GIF image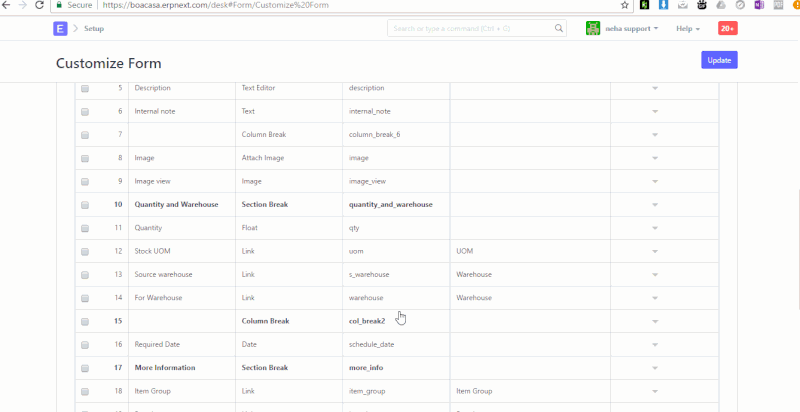 @umair Can replicate the issue in my test as well.

Please update me regarding this,could it be solved?
Hi its been 27 days since issue was posted and even though you can replicate the same I have not yet got a reply.
Hello,
Sorry for the delay in response. It was only Arundhati able to replicate this issue. She is on leave and will be available in the next week only. If this issue is occurring in your hosted ERPNext account, please report it on support@erpnext.com
This issue was also reported by mail on support@erpnext.com & arundati had replied the following,this reply I had received on January 6th,post that no reply from her,Even though a reminder on 24th January was sent :
Thanks for the link. I will confirm with the team and let you know the status.
Thanks for your cooperation.
Section Break, Column Break, HTML, Table, Button, Image, Fold, Heading and Image fields are not allowed to set as In List View.
But you can use the Image View instead of List view. Enable the Image View from customize form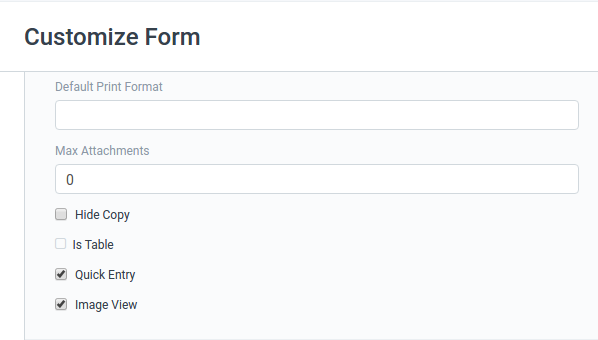 Then you can switch from List view to Image view from sidebar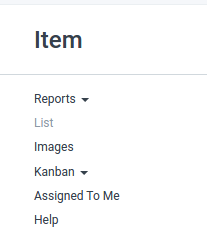 Thanks, Makarand
@makarand_b :I want this image to be viewed in Material request grid.
@umair @ArundhatiS Hi arundati,
Can you comment on my query so we can go ahead and close this issue.
Thanks
Neha
@Boacasa
Sorry for the delay in response. I was able to replicate the issue and has reported it to the concern person in the team. Will keep you posted on the developments for the issue.
Apologies for the inconvenience caused.
Currently, Image view is only available for Document Listview, As grid can be editable Image fields are excluded from the List View.
You can raise a github issue for this feature.
Thanks,
Makarand