Hello Community,
we have multiple warehouses in which we store different parts used for production: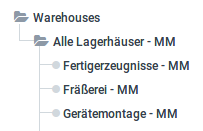 If I use the production planning tool to create material requests for a sales order I have to provide a warehouse.

Due to the fact that our parts are stored in multiple warehouses I tried to set the group warehouse "Alle Lagerhäuser" as warehouse. If I create material requests for this warehouse for each item on the BOM a material requests for the full amount is generate no matter if we have sufficient stock or not.
Is there any alternative way to raise material requests based on the actual stock?