Finally, Version 11 has been merged into master branch!
Refer to these instructions for updating to/staying on v10/v11.
Here's a brief changelog of major changes done.
Frappe v11.1.0
Dynamic Frappe Charts with Report Builder (built by @pratu16x7)
New Frappe Chat for easier internal communication (built by @achillesrasquinha)
Frappe DataTable for better reports (built by @netchampfaris)
Google Calendar can now be integrated with Frappe
Files can now be uploaded using drag-and-drop
Enhanced List View and Tree View
Bulk Actions from List View
Quill editor has been introduced in place of Summernote
HTML Editor has been introduced
New User Permissions
Subscriptions in ERPNext now moved to Auto Repeat in Frappe
Support for Razorpay and PayPal subscriptions
Better Social login, Workflow
Messages for when user goes online/offline
Logout from all sessions on password change
Desktop icons can now be selected from a dialog box
ERPNext v11.1.0
Enhancements

Accounting

Company Tree
Multiple Finance Books
Bank Statement Upload
Tax Withholding
Subscriptions
Deferred Revenue and Expenses
Exchange Rate Revaluation
Inter Company Transactions
Standalone Credit / Debit Note
Reverse Journal Entry
Enhanced Bank Guarantee
Cost Center Numbering
Loyalty Points Management
Enhanced General ledger report

Human Resources

Department Hierarchy
Leave Management
Leave Period
New Leave Types
Leave Encashment
Compensatory Leave
Attendance Request
Enhanced Payroll
New Salary Structure
Additional Salary
Payroll Period
Employee Benefits
Employee Tax Exemptions
Auto Calculation of Tax Deduction
Enhanced Salary Processing
Employee Onboarding
Employee Separation
Employee Transfer
Employee Promotion
Employee Incentive
Retention Bonus
Shift Planning
Staffing Plan

Asset Management

Capital-Work-in-Progress (CWIP) Accounting
Multiple depreciation schedule based on finance book
Asset Value Adjustment
Improved Asset Movement between location or employee
New Depreciation method Written Down Value (WDV)

POS

Allow draft mode print in online POS
Allowed print before pay
Save the invoice before print

Other Features

A free marketplace where any ERPNext user can list their products and be discovered by thousands of other companies using ERPNext
Add/Update quantity in Sales & Purchase Order without amending document
Enhanced Item Price (Based on UOM, Party, Min. Qty, etc.)
Shareholder Management
Production Plan and Job Card
Delivery Trip
Updated Timesheets
Lead Notes
Better Sales / Purchase / Stock Analytics report
Currency exchange API is changed to frankfurter public domain

GST (India)

Auto selection of GST tax template based on company and shipping address
GSTR-1 based on the address
HSN-wise summary of outwards supplies

Changes have been made to ensure that Frappe & ERPNext are compatible with Python 3

Better documentation is now available with support for more languages

A lot of other fixes have been done to ensure a better overall user experience
For more details, please refer to: https://erpnext.org/releases/version-11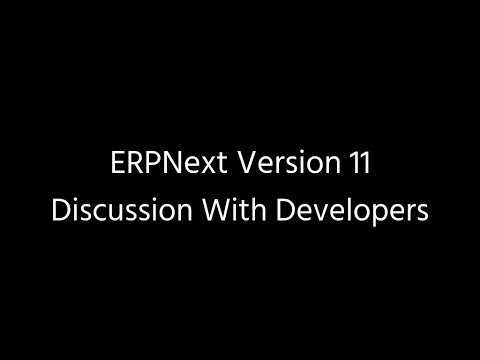 You can also refer to ERPNext v11 Webinars
A big thank you to all the contributors who work hard to make Frappe/ERPNext a fantastic product!